3 Ways to Watercolour (Not)
Posted on
Getting back into the swing of painting has not been as easy as I hoped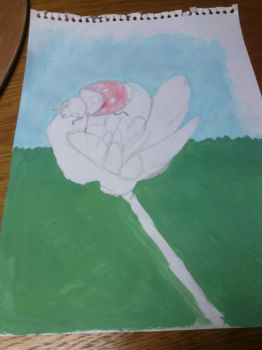 No !
not quite like riding a bike that you never forget, like I had though just a bit wobbly
No I had completely forgotten
Everything, even little basics, practices, tips
Let me tell you how not to paint in watercolours.
I first started with making this quick sketch of a ladybird on a flower and started painting it
in watercolours my first painting in ages
I still can't believe its been over 20 years since I last got really creative
So I got all my things ready, and started painted this yukkie green that I had mixed up for my grass background colour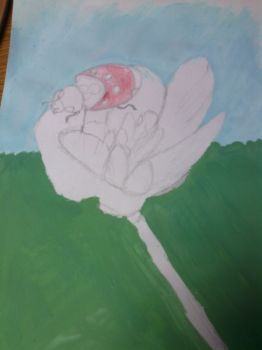 letting it dry a while I had a quick go with some red for my base coat of the ladybird
and then started on my blue sky colour which I realised I hadn't made enough of (ninny)
but decided I would just cut it down to size later.
Then mixed my yellow paint ready for the flower
again waiting for it to dry slightly each time, it takes a long time waiting for paint to dry
I completely forgotten about that with watercolour paint was so thin
I didn't like the pencil marks showing through
Forgotten how you either should paint freehand not quite that ready lol
or use very light pencil or draw in watercolour pencils (note to self - remember that for next time)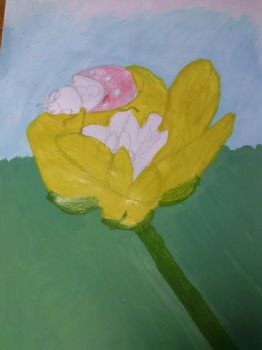 painting on the yellow it appeared even worst with such a light yellow
my pencil drawing showed up too much for my liking
I didn't get far just blending the yellow paint in, my paper started coming away
It was quite funny
I started on the stalk with a darker green and looked around to see where I could use this green
for shading but my yellow was even getting worst by then coming off in tiny wet clumps
the paper was definitely the wrong paper
and was spreading into my green even with drying it first.
So I gave up on this painting!
Learning is part of the fun, don't you think? learning from our mistakes
where you go wrong you just learn a little bit more about yourself
whether you've patient, a perfectionist or just expressing yourself
I did notice I would have liked more blending I don't like the line between the grass and the sky
it needed to blend in together more. Doesn't look natural
I may have another go at this project at a later date I do like this picture
and watercolours are not the right medium for layering which I wanted for this painting
Watercolours are best for blending light and dark and sticking to one colour which I had forgotten
Tell me in the comments what project you're working on at this moment or in the future
I would love you to share any tips you feel are needed to improve our journey into creativity or tips we can learn from
Or if you would like to connect with me deeper sign up
livepages::jquery(); ?>